Recent Updates on www.ruralroutes.com!
---
Marmora's Memory Lane, Marmora


Redtail Paddle Company, Campbellford


Suzanne Ritchie Massage Clinic, Havelock


McIlmoyle's Auto Service, Hastings


Wilson's of Madoc, Madoc

---
Recent reviews on www.ruralroutes.com clients!
---
The Cannery Cafe, Deseronto


Ruth Bellamy on 25-Aug-14

Loved the show with Carla but felt the starting times were not communicated. In the advert. I had from a local paper said that dinner was 5:30 and show 6 to 8. In fact the show didn't start till 8 and people were eating up to just before that. We thought it was early and wouldn't have come so early if we had known that. Otherwise a good effort for the area.
---
Abrams Bakery, Newburgh


PATTI LOVE on 16-Aug-14

Awesome bakery with great pizza tooo...
---
Lakeshore Farms (OFFMA), Wellington


Aidan McPeake on 05-Aug-14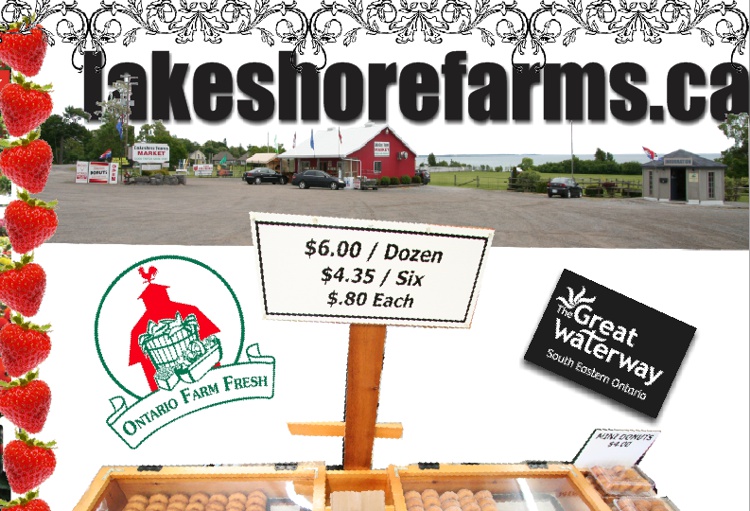 BEST DOUGHNUTS EVER! I don't know what this place does so differently and I know the store wasn't build to sell doughnuts but holy cow! By FAR the best I have ever had!!!!!!
---
Polished Spa Services, Grafton


Maureen O'Connor on 01-Aug-14


Set out for a drive up County Road 23 (Lyle Street), relishing in the beauty of the verdant farms, the rolling hills, the large pond you will pass. You begin to relax, just from the pastoral setting and the beautiful drive. Turn onto Eddystone Road, a pretty, winding road that will lead you to further relaxation. You arrive at the delightful house by the side of the road with its own studio towards the back. When you open the door, you are greeted by a welcoming, happy smile—a great big smile that welcomes you warmly! Holly is very pleased to see you and makes you feel immediately at home. She offers tea and cookies and then begins your treatment—a gentle, thoughtful, relaxing treatment, either quiet, if that's your preference, or full of laughter and chatter, if you are comfortable with that. While you're on her treatment "chair," you can see how she's decorated the room to be interesting and comforting. And the birds outside the window always provide wonderful entertainment! If this is your first treatment, you will recognize the beginning of a friendship. If you have come back or you come regularly, you'll be aware of a growing friendship. Bring along your significant other—he or she is always welcome, gets to have tea and cookies too, and shares in the conversation—and the treatment too, if you like! Do yourself a favour, be good to yourself, and let Holly at Polished be good to you. Relax!
---
St. Pauls Station, St. Marys


Nancy Armstrong on 28-Jul-14

I am hoping you might be able to help me. I recently bought an old photograph of a man by the name of Kenneth W. Crawford, who was from Galt, Ontario in 1900. The photo was taken in Ithaca, New York, and is a graduation photo of Kenneth. I looked on Ancestry, and found a Kenneth Crawford living in a small place called St. Paul's, Ontario. Do you happen to know if there is a library or historical society that would have information about St. Paul's? I live in New York State, and am not at all familiar with the area. Nancy Armstrong lass53@aol.com
---
Thanks to small business / town Ontario for your patronage ... we are here because of you.
We are ramping up content management systems for Business Improvement Associations (BIAs) and Chambers of Commerce...for an example see Bath, Ontario.
Administration is a dream when you put a quick database to work online with a user friendly front end. Call us anytime to discuss options (613 475 4637) or email .
"If it's worth having a business card, it's worth having a Top Level Domain Name (ie mybusiness.com) "
We've designed our directory with simplicity and user-friendliness in mind... the new "quick search" above should make access speedier and our "self edit" and "private e-mailer" are still drivers to our success. Please consider hosting your website with us: We offer Ethernet over Fiber bullet fast access, unlimited storage and POP3 email accounts, and on the fly tutorials to managing your own website. E-mail us at .
We also design and build custom web sites... examples include:
Bath, Ontario...Village Website
Campbellford, Ontario....Town Business Directory
Hastings, Ontario... Village Website
Detailed Topographic Maps Available...
Order your full set of the detailed 2014 maps online! Or call 613 475 4637 anytime! Go to our Order Page
We are tidying up our popular online directory by aligning our records with the brand spanking new Regional Tourism scheme:
Ministry of Tourism and Culture
Let us know of improvements you would like to see :
We are always looking for interested marketers in other jurisdictions.
We will happily mount the ruralroutes.com database on a laptop for you, so that you can get started on an interesting journey of posting rural tourism content online.
You need a minimum of experience, just enthusiasm, a good nature, and a few PC skills. Call anytime 613 475 4637 to discuss opportunities, or visit http://www.ruralroutes.com/orr_prospectus.cfm ! Thanks again for supporting our regional tourism online directory.

Clive Nickerson MBA
www.ruralroutes.com