Recent Updates on www.ruralroutes.com!
---
Carmells Family Restaurant, Tiverton


Hunt's Landscaping Ltd., Carrying Place


Rose's Olde Country Furniture, Dunnville


Cathi and Friends 'STUFF', Dunnville


A Better bite, Hastings

---
Recent reviews on www.ruralroutes.com clients!
---
St. Pauls Station, St. Marys


Nancy Armstrong on 28-Jul-14

I am hoping you might be able to help me. I recently bought an old photograph of a man by the name of Kenneth W. Crawford, who was from Galt, Ontario in 1900. The photo was taken in Ithaca, New York, and is a graduation photo of Kenneth. I looked on Ancestry, and found a Kenneth Crawford living in a small place called St. Paul's, Ontario. Do you happen to know if there is a library or historical society that would have information about St. Paul's? I live in New York State, and am not at all familiar with the area. Nancy Armstrong lass53@aol.com
---
Doo Doo's Bakery, Bailieboro


Terri Spilek on 28-Jul-14

When I first seen the name Doo Doos I was kind of freaked out a bit when my son was 2 we moved in to a house and he all of a sudden he had an imaginary friend named Doo Doo so of course I had to stop well I have to say they were the best tarts I had ever tasted my sister had told me that this is where she always goes and when we both think of this place we start to drool YUMMY ! thankyou for such a great tart experience
---
Jeanette's Creek, Tilbury


Michelle McGahey on 28-Jul-14

Hi, My father was Harry Tellier who taught at Jeanette's Creek public school. He married Jean Adrianna Vandersteen who was the older sister of many siblings that he taught. The Vandersteen family had 11 children and many of them were taught by my father at the school. He met my mother when the school put on a Christmas concert and they needed a piano accompanist. One of the students said that her older sister played the piano and this person was my mother. Quite a few of the Vandersteen family are still alive if that name is interesting to this discussion.
---
Benjamin Lowndes, Campbellford


Olden Wood Revivals on 22-Jul-14

Really appreciated the service, professional advice, and personal attention offered at Benjamin Graphics. No slick sales pitch, here. Just real people who spend their talents and time on you for your best interest. We had a business sign and a vehicle wrap made. All came out beautifully printed, reasonably priced, and on time to our full satisfaction. Ben, Tarama, and Lisa are totally unassuming yet totally dedicated. What is important to you becomes their pursuit to fulfil, no matter the job size. To those looking for quality presentation in advertisement, head to Benjamin Graphics, where they'll treat you right and work with you to make sure that you like the end results. Wonderful people!
---
Ming Star Restaurant Inc, Campbellford


GWest on 18-Jul-14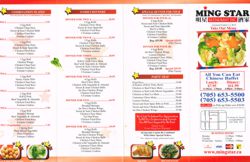 My husband and I had lunch at the restaurant, 7/18/14. It was very good. There were many patrons so the staff was kept busy filling the buffet. The food was very good, especially the mixed veggies, pork in black bean sauce and their breaded items. The Egg Fu Yung (that might be misspelled) was some of the best I've had. I plan to go back soon.
---
Thanks to small business / town Ontario for your patronage ... we are here because of you.
We are ramping up content management systems for Business Improvement Associations (BIAs) and Chambers of Commerce...for an example see Bath, Ontario.
Administration is a dream when you put a quick database to work online with a user friendly front end. Call us anytime to discuss options (613 475 4637) or email .
"If it's worth having a business card, it's worth having a Top Level Domain Name (ie mybusiness.com) "
We've designed our directory with simplicity and user-friendliness in mind... the new "quick search" above should make access speedier and our "self edit" and "private e-mailer" are still drivers to our success. Please consider hosting your website with us: We offer Ethernet over Fiber bullet fast access, unlimited storage and POP3 email accounts, and on the fly tutorials to managing your own website. E-mail us at .
We also design and build custom web sites... examples include:
Bath, Ontario...Village Website
Campbellford, Ontario....Town Business Directory
Hastings, Ontario... Village Website
Detailed Topographic Maps Available...
Order your full set of the detailed 2014 maps online! Or call 613 475 4637 anytime! Go to our Order Page
We are tidying up our popular online directory by aligning our records with the brand spanking new Regional Tourism scheme:
Ministry of Tourism and Culture
Let us know of improvements you would like to see :
We are always looking for interested marketers in other jurisdictions.
We will happily mount the ruralroutes.com database on a laptop for you, so that you can get started on an interesting journey of posting rural tourism content online.
You need a minimum of experience, just enthusiasm, a good nature, and a few PC skills. Call anytime 613 475 4637 to discuss opportunities, or visit http://www.ruralroutes.com/orr_prospectus.cfm ! Thanks again for supporting our regional tourism online directory.

Clive Nickerson MBA
www.ruralroutes.com