Recent Updates on www.ruralroutes.com!
---
E & T Heating & Cooling, Campbellford


Stone Mills Family Market, Tamworth


Muddys Authentic Log Wood Pit BBQ, Keene


The Old Railroad Stop (Hiawatha First Nation), Hiawatha First Nation


Pause Awhile, Waterdown

---
Recent reviews on www.ruralroutes.com clients!
---
Cambray, Cambray


Susan on 19-Feb-17

I love Cambray my family is from there and now I am trying to make contact with them. I was wondering if you could assist me. You can give them my name and phone number, I am looking for the persons now that my Aunty Marie passed in February 2011 it's hard to find anyone. I have been in BC since 2011 and now I have returned Reviewer Email: ronaldmacvicar@rocket.com Reviewer Phone: 705 321-1527 Thanks for your help Susan Wood
---
The Waterside Market, Deseronto


Elaine S on 18-Feb-17

I've been to the market a few times on my way east or west. Each time I visit, there are more things to available to buy: unique items, retro items, amazing prices. Worth a visit.
---
Quinte Variety and Grocery Deseronto, Deseronto


Beverley on 14-Feb-17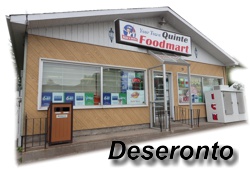 I seem to be the only person who comments on our grocery store here in deseronto,but i am sure more people than me have good thoughts . I again have to say that for small store ,they have everything that you need,going to these large stores make you buy more than you need,plus you have to travel so what are you saving.? Last but not least is the friendliness of their staff,big stores don't care,they just push you through,without a hello or a smile. We are so fortunate to have this store,so come on Deseronto support it,we don't need any more closed stores in our town.
---
Duart, Duart


Jeff Atkinson on 07-Feb-17

I grew up in Duart. My parents still live there. Kennedy's store has been closed for over 20 years. The other store/post office has also been closed for a very long time. Same for both churches and the community hall. This is a bedroom community now and the cemetery is the only going concern.
---
Tweed Historical Society, Tweed


Tim Morawetz on 03-Feb-17

I am interested in finding information about the 'Bateman' house (the 1940s white streamlined house) on the east side of Highway 37 just south of town. I am writing a book about Art Deco architecture across Canada, and I will be including this home in the book. Do you happen to know who built the house, when, and for whom? Was there an architect involved? Is there any connection with the Rashotte family? Any information you can provide would be greatly appreciated. tim@glue-to.com
---
Thanks to small business / town Ontario for your patronage ... we are here because of you.
Administration is a dream when you put a quick database to work online with a user friendly front end. Call us anytime to discuss options (613 475 4637) or email .
"If it's worth having a business card, it's worth having a Top Level Domain Name (ie mybusiness.com) "
We've designed our directory with simplicity and user-friendliness in mind... the new "quick search" above should make access speedier and our "self edit" and "private e-mailer" are still drivers to our success. Please consider hosting your website with us: We offer Ethernet over Fiber bullet fast access, unlimited storage and POP3 email accounts, and on the fly tutorials to managing your own website. E-mail us at .
We also design and build custom web sites... examples include:
Campbellford, Ontario....Town Business Directory
Hastings, Ontario... Village Website
Detailed Topographic Maps Available...
Order your full set of the detailed 2016 maps online! Or call 613 475 4637 anytime! Go to our Order Page
We are tidying up our popular online directory by aligning our records with the brand spanking new Regional Tourism scheme:
Ministry of Tourism and Culture
Let us know of improvements you would like to see :
We are always looking for interested marketers in other jurisdictions.
We will happily mount the ruralroutes.com database on a laptop for you, so that you can get started on an interesting journey of posting rural tourism content online.
You need a minimum of experience, just enthusiasm, a good nature, and a few PC skills. Call anytime 613 475 4637 to discuss opportunities, or visit http://www.ruralroutes.com/orr_prospectus.cfm ! Thanks again for supporting our regional tourism online directory.

Clive Nickerson MBA
www.ruralroutes.com