Recent Updates on www.ruralroutes.com!
---
Jillian's Antiques and Things, Marmora


Springbrook Diner, Springbrook


BF Fabrics, Marmora


Bailey's Restaurant, Marmora


Leisure Farms Berry Grower, Sturgeon Falls

---
Recent reviews on www.ruralroutes.com clients!
---
Lilly's Balloons, Havelock


josh on 30-May-16

what a great place great selection and prices and now even better they have a ice cream parlor plus amazing customer service.....
---
The Riverview Restaurant, Campbellford


Montse Alvarado on 28-May-16

We love it here. Wonderful service :)
---
Lakeshore Farms (OFFMA), Wellington


Mary Meadows on 27-May-16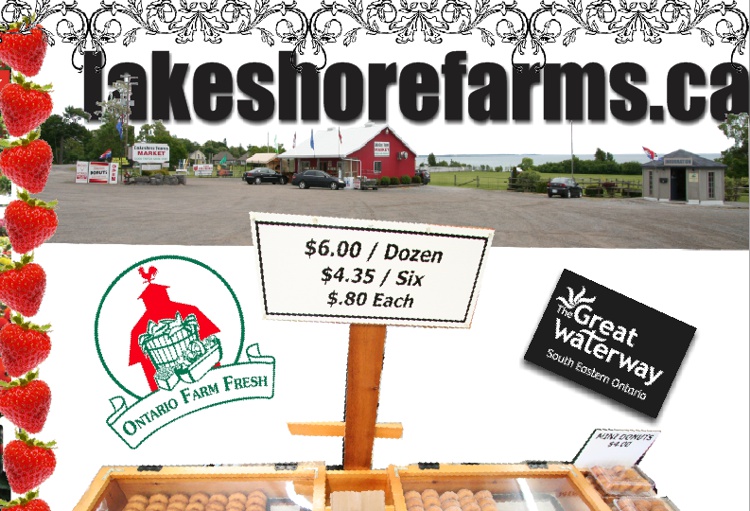 Good afternoon: If you are heading to Prince Edward County this summer do not miss a stop at Lakeshore Farm Market on Hwy 33 at the west end of Wellington. You will love their HOMEMADE sugar or plain donuts!! They have the best frozen ham and cheese quiche. It is absolutely the best I have eaten. Bought some last week and again today. I recommend the quiche to anyone for a breakfast, brunch or just a late snack. They are a nice size and come 2 to a package. Homemade breads and buns are also very good. This is a Foodland Ontario site. Hope you see you in the County!!
---
Cat Care Spay/Neuter Initiative, Campbellford


Faith on 23-May-16

The store is great and has great items in it. The kitties are adorable of course.
---
The Mason Jar Family Restaurant, Carrying Place


John on 23-May-16

One of the better breakfast spots in town. Very few chairs open most visits - sign of a happy clientele.
---
Thanks to small business / town Ontario for your patronage ... we are here because of you.
Administration is a dream when you put a quick database to work online with a user friendly front end. Call us anytime to discuss options (613 475 4637) or email .
"If it's worth having a business card, it's worth having a Top Level Domain Name (ie mybusiness.com) "
We've designed our directory with simplicity and user-friendliness in mind... the new "quick search" above should make access speedier and our "self edit" and "private e-mailer" are still drivers to our success. Please consider hosting your website with us: We offer Ethernet over Fiber bullet fast access, unlimited storage and POP3 email accounts, and on the fly tutorials to managing your own website. E-mail us at .
We also design and build custom web sites... examples include:
Campbellford, Ontario....Town Business Directory
Hastings, Ontario... Village Website
Detailed Topographic Maps Available...
Order your full set of the detailed 2015 maps online! Or call 613 475 4637 anytime! Go to our Order Page
We are tidying up our popular online directory by aligning our records with the brand spanking new Regional Tourism scheme:
Ministry of Tourism and Culture
Let us know of improvements you would like to see :
We are always looking for interested marketers in other jurisdictions.
We will happily mount the ruralroutes.com database on a laptop for you, so that you can get started on an interesting journey of posting rural tourism content online.
You need a minimum of experience, just enthusiasm, a good nature, and a few PC skills. Call anytime 613 475 4637 to discuss opportunities, or visit http://www.ruralroutes.com/orr_prospectus.cfm ! Thanks again for supporting our regional tourism online directory.

Clive Nickerson MBA
www.ruralroutes.com