Recent Updates on www.ruralroutes.com!
---
Back40 Powersports, Stirling


Barrett's Satellite Solutions, Stirling


Baker's Dozen Donuts, Brighton


Marmora's Memory Lane, Marmora


Burnside's Casual Dining / Tom's Cabin / Burnside Christmas Tree Farm, Madoc

---
Recent reviews on www.ruralroutes.com clients!
---
Hawk Junction, Hawk Junction


Angie on 29-Jul-15

Will be there again this weekend! I love it up here.... quiet and peaceful- great place to get away from. And dont forget the local watering hole!
---
Moonlight Motel of Havelock, Havelock


Cathy Robb on 27-Jul-15

I just came across the website for this motel and I was so impressed with it I showed my husband. I just love the pics of the accessible rooms as I am in a wheelchair!!! We read the reviews and have have decided to make this a place to stay this fall!!!
---
Powassan Fall Fair, Powassan


April on 23-Jul-15


Hats off to the NON PROFIT, CHARITABLE ORGANIZATION - Powassan Agricultural society/Fall Fair for continuing to persevere under competition from a FOR PROFIT event that adds the same events as the fair!!! It's a testament to the members who have fought to keep the fall fair tradition going for 120 years! The group that has been in there for the past 20+ years have fought a lot of adversity. The Municipality of Powassan should never have allowed that other event to operate on the same weekend as the fall fair, it is disgraceful.
---
Copetown, Copetown


Rosemary Beasley on 22-Jul-15

Do you have any history on the Mt Zion Cemetery on Hwy 52? My grandparents (Frank & Evelyn Beasley) are buried there. Thx, rxbyyz@rogers.com
---
Fosterholm Farm Market, Picton


Rohit Chandra on 22-Jul-15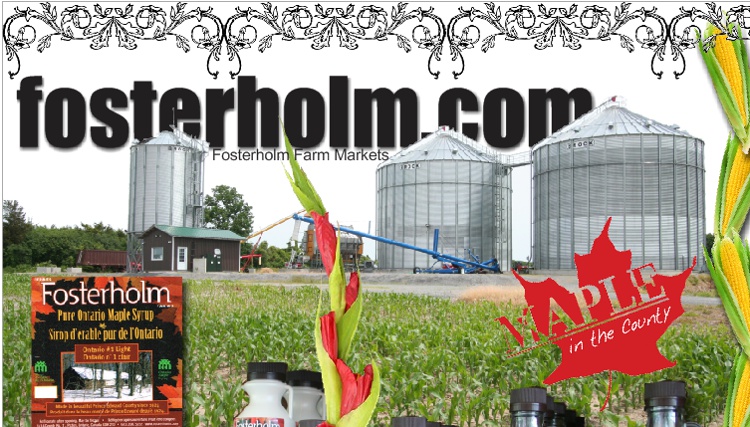 Ten family members and I stopped at your farm stand near Sandbanks this weekend, and we ate the most delicious strawberries any of us have ever tasted. They were so full of juice that they looked like water balloons studded with seeds, and tasted like candy. Absolutely amazing. We also loved the green beans, cherries and blueberries. Thanks for such a wonderful experience eating real food. - Rohit, Boston, U.S.A.
---
Thanks to small business / town Ontario for your patronage ... we are here because of you.
We are ramping up content management systems for Business Improvement Associations (BIAs) and Chambers of Commerce...for an example see Bath, Ontario.
Administration is a dream when you put a quick database to work online with a user friendly front end. Call us anytime to discuss options (613 475 4637) or email .
"If it's worth having a business card, it's worth having a Top Level Domain Name (ie mybusiness.com) "
We've designed our directory with simplicity and user-friendliness in mind... the new "quick search" above should make access speedier and our "self edit" and "private e-mailer" are still drivers to our success. Please consider hosting your website with us: We offer Ethernet over Fiber bullet fast access, unlimited storage and POP3 email accounts, and on the fly tutorials to managing your own website. E-mail us at .
We also design and build custom web sites... examples include:
Bath, Ontario...Village Website
Campbellford, Ontario....Town Business Directory
Hastings, Ontario... Village Website
Detailed Topographic Maps Available...
Order your full set of the detailed 2014 maps online! Or call 613 475 4637 anytime! Go to our Order Page
We are tidying up our popular online directory by aligning our records with the brand spanking new Regional Tourism scheme:
Ministry of Tourism and Culture
Let us know of improvements you would like to see :
We are always looking for interested marketers in other jurisdictions.
We will happily mount the ruralroutes.com database on a laptop for you, so that you can get started on an interesting journey of posting rural tourism content online.
You need a minimum of experience, just enthusiasm, a good nature, and a few PC skills. Call anytime 613 475 4637 to discuss opportunities, or visit http://www.ruralroutes.com/orr_prospectus.cfm ! Thanks again for supporting our regional tourism online directory.

Clive Nickerson MBA
www.ruralroutes.com