Recent Updates on www.ruralroutes.com!
---
Osland Sheep and Beef Farm, Port Hope


Shivas Chicken, Cobourg


Return To Splendor Furniture Restoration, Bath


Tweedsmuir Tavern ~ COMING EVENTS - see below, Tweed


Eurkwoods Sugar & Gluten Free Foods, Campbellford

---
Recent reviews on www.ruralroutes.com clients!
---
Jeanette's Creek, Tilbury


Vern Huston on 19-Sep-14

Hi everyone: Drop me a note at vern huston@yahoo.ca and I will send you a write up about the first 16 years of my life living in Jeanette's Creek from 1940 to 56. vernhuston@yahoo.ca 519 633 3491 Thanks Vern Huston
---
Jeanette's Creek, Tilbury


Vern Huston on 19-Sep-14

Hi to Michelle: drop me a note at my Email address and I will send you my short story that I wrote for my mother who just passed away 2 years ago. I could not put up your address from the note you left in this site. Thanks Vern vernhuston@yahoo.ca
---
The Mason Jar Family Restaurant, Carrying Place


marleyandmike on 18-Sep-14

If you complain about The Mason Jar, then one would have to wonder just where you would like to go to enjoy a casual breakfast or lunch - diner style - and be happy. This restaurant is always spotless, the service is always good - served with a smile and some chatter - and over the years we have found the food has always been perfectly cooked to our order. Prices are very reasonable with lots of breakfast specials as well as a Seniors Menu for smaller appetites. They always have lunch specials too and we can highly recommend their home made soups - we usually ask for a carry out order to take some home with us. If you are heading to or from Prince Edward County - it is located in Carrying Place not far from the Swing Bridge over the Murray Canal. Turn onto CR-64 at the only traffic light in this little hamlet - it's across the street from the post office. It's really a great little diner!
---
Inspirations Glass & Gifts, Colborne


LISA on 17-Sep-14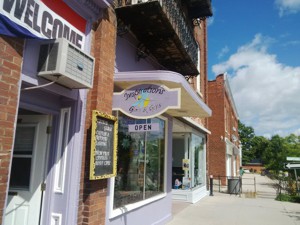 I was given the owner contact information and she was more then willing to help me and do anything I wanted. I sent her what I wanted and she did an amazing job and even got to see the product being finished. It was so neat to see the work being done. Makes you appreciate the product even more.Love her work and would recommend her to everyone!
---
Bailey's Cottages, Madoc


Michael Gormley on 05-Sep-14

Had and amazing stay at Bailey's Cottages on the August long weekend of 2014. My wife, son and I cannot say enough good things about the hospitality and the people we met during our stay. The fishing is outstanding as are those running Bailey's Cottages. Much thanks to Doug, Sharon, Brad and Kerry. My son Liam says the kids are really cool too. We appreciated all they did to make our stay feel like home and we are looking forward to many more visits over the years to come.
---
Thanks to small business / town Ontario for your patronage ... we are here because of you.
We are ramping up content management systems for Business Improvement Associations (BIAs) and Chambers of Commerce...for an example see Bath, Ontario.
Administration is a dream when you put a quick database to work online with a user friendly front end. Call us anytime to discuss options (613 475 4637) or email .
"If it's worth having a business card, it's worth having a Top Level Domain Name (ie mybusiness.com) "
We've designed our directory with simplicity and user-friendliness in mind... the new "quick search" above should make access speedier and our "self edit" and "private e-mailer" are still drivers to our success. Please consider hosting your website with us: We offer Ethernet over Fiber bullet fast access, unlimited storage and POP3 email accounts, and on the fly tutorials to managing your own website. E-mail us at .
We also design and build custom web sites... examples include:
Bath, Ontario...Village Website
Campbellford, Ontario....Town Business Directory
Hastings, Ontario... Village Website
Detailed Topographic Maps Available...
Order your full set of the detailed 2014 maps online! Or call 613 475 4637 anytime! Go to our Order Page
We are tidying up our popular online directory by aligning our records with the brand spanking new Regional Tourism scheme:
Ministry of Tourism and Culture
Let us know of improvements you would like to see :
We are always looking for interested marketers in other jurisdictions.
We will happily mount the ruralroutes.com database on a laptop for you, so that you can get started on an interesting journey of posting rural tourism content online.
You need a minimum of experience, just enthusiasm, a good nature, and a few PC skills. Call anytime 613 475 4637 to discuss opportunities, or visit http://www.ruralroutes.com/orr_prospectus.cfm ! Thanks again for supporting our regional tourism online directory.

Clive Nickerson MBA
www.ruralroutes.com