Recent Updates on www.ruralroutes.com!
---
Marmora's Memory Lane, Marmora


Laird Fair, Echo Bay


The Roseneath Carousel and Roseneath Agricultural Fall Fair, Roseneath


Becky's Dog and Cat Salon and Pet Supplies, Tweed


Pete's Prop Shop (PPS), Belleville

---
Recent reviews on www.ruralroutes.com clients!
---
Thai Sushi Restaurant of Trenton, Ontario, Trenton


PETER Y on 04-Mar-14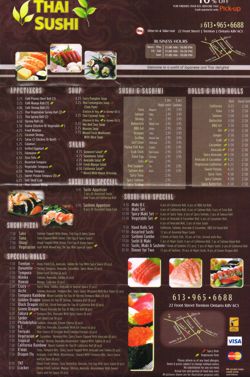 We get food from Thai Sushi often here, normally takeout. They're always really fast, the food is always fresh, and really tasty. I've had better sushi once or twice, but it's definitely worth going back to. One of my top three Trenton restaurants, anyway. We've eaten in the restaurant a few times, and the service is good. The food comes out fast, and it's always hot and fresh and tasty. Definitely one of the nicer restaurants, it's quiet and clean as well.
---
Crowe Lake Health Centre, Havelock


Jenny Simpson on 03-Mar-14

Dale is a talented and caring teacher and health professional. Her cranial sacral work has been immensely powerful on many people, myself included. Her yoga classes are fluid and individualized. She is a gifted teacher and understands the body and her students' needs better than any instructor I have had.
---
Jeanette's Creek, Tilbury


Deb Wilson on 27-Feb-14

I am writing about the history of Jeannette's Creek. My families are the Garbutts and the Michies. Any information is appreciated Thanks debtherebel@gmail.com
---
White Feather Country Store, Oshawa


Jay K. on 25-Feb-14

This is my favroite country store, craft shop and bakery. Just minutes north of Oshawa off Simcoe St. A visit here on a day off is just a pleasure. In one stop you can buy tasty baked goods, purchase from a wide selection of frozen meats and vegatatables and choose from hundreds of gift and decorative items, many hand made. There's even a pleasant cafe for a quick snack and coffee. This is my favroite place for Christmas shopping. It's great for last minute and thrifty gift ideas. Their fresh/frozen hamburger patties are the best. Gonna BBQ some tonite.
---
The Captain's Table, Hastings


John Z on 22-Feb-14


There's a reason why we'll drive from Toronto for a plate of their fish n chips.
---
Thanks to small business / town Ontario for your patronage ... we are here because of you.
We are ramping up content management systems for Business Improvement Associations (BIAs) and Chambers of Commerce...for an example see Bath, Ontario.
Administration is a dream when you put a quick database to work online with a user friendly front end. Call us anytime to discuss options (613 475 4637) or email .
"If it's worth having a business card, it's worth having a Top Level Domain Name (ie mybusiness.com) "
We've designed our directory with simplicity and user-friendliness in mind... the new "quick search" above should make access speedier and our "self edit" and "private e-mailer" are still drivers to our success. Please consider hosting your website with us: We offer Ethernet over Fiber bullet fast access, unlimited storage and POP3 email accounts, and on the fly tutorials to managing your own website. E-mail us at .
We also design and build custom web sites... examples include:
Bath, Ontario...Village Website
Campbellford, Ontario....Town Business Directory
Hastings, Ontario... Village Website
Detailed Topographic Maps Available...
Order your full set of the detailed 2013 maps online! Or call 613 475 4637 anytime! Go to our Order Page
We are tidying up our popular online directory by aligning our records with the brand spanking new Regional Tourism scheme:
Ministry of Tourism and Culture
Let us know of improvements you would like to see :
We are always looking for interested marketers in other jurisdictions.
We will happily mount the ruralroutes.com database on a laptop for you, so that you can get started on an interesting journey of posting rural tourism content online.
You need a minimum of experience, just enthusiasm, a good nature, and a few PC skills. Call anytime 613 475 4637 to discuss opportunities, or visit http://www.ruralroutes.com/orr_prospectus.cfm ! Thanks again for supporting our regional tourism online directory.

Clive Nickerson MBA
www.ruralroutes.com