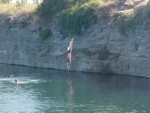 11 km. north of Stirling
Stirling, Ontario
K0K 3E0



Ontario Tourism Region : Ontario's Highlands

Phone : (613) 475-4637
E-Mail : Click Here to E-Mail us
Outside Web Page : http://goo.gl/ohRD1
Your Host(s) : Ontario Rural Routes

Driving Directions:
Just drive 11.5 km. north from Stirling's downtown
Description From Owner:
The Cheese Factories may disappear, but youthful exuberance will not. A hot August day, and the quarry is a great place to cool off.
A Rawdon Township wonder, and another reason to visit Ontario's rural routes.
View Larger Map
Address of this page: http://www.ruralroutes.com/harold
Visitors to this page: 15,535 Emails sent through this page: 2 This record last updated: July 26, 2016

Off the beaten track:

Spring Brook, 2km
Sine, 5km
Wellman, 5km
Bonarlaw, 5km
Minto, Stirling area, 5km
Mount Pleasant, Stirling area, 9km
Anson, 9km
Rylstone, 8km
Hoards, 11km
Glen Ross, 13km
Menie, 11km
Burnbrae, 11km
River Valley, Stirling area, 13km
Allan Mills, 10km
West Huntingdon, 10km
Marmora Station, 14km
Ivanhoe, 10km

West Huntingdon Station, 11km
Tuftsville, 12km
Deloro, 15km
Pethericks Corners, 11km
Ivanhoe Station, 11km
Green Acres, 14km
Madoc Junction, 12km
Oak Lake, Stirling area, 14km
German Landing, 15km
White Lake, Madoc area, 13km
Maple View, 16km
Crowe Bridge, 12km
Crookston, 13km
Stanwood, 13km
Halloway, 15km
English Line, 16km
Malone, 20km

Blairton, 16km
Chatterton, 18km
Stockdale, 20km
Fuller, 15km
Healey Falls, 15km
Kellers, 16km
Moira, 16km
Wallbridge, 20km
Zion Hill, Foxboro area, 18km
Woodland, Havelock area, 16km
Phillipston, 17km
Blairton Station, 17km
Freeman Corners, 18km
Preneveau, 18km
Hazzards Corners, 23km
Connellys, 18km




Nearby Lakes:

Rylstone Lake, 9km
Jarvis Lake, 15km
Banker Lake, 14km
Oak Lake, 14km
Ross Lake, 13km
White Lake, 13km
Snake Lake, 14km
Crowe Lake, 16km
Mud Lake, 14km
Moira Lake, 17km
Moreland Lake, 15km
Seymour Lake, 17km
Drag Lake, 18km
Eldorado Lake, 24km
Hazzard Lake, 24km
Belmont Lake, 22km
Buttermilk Lake, 27km

Twin Sister Lakes, 26km
Thompson Lake, 28km
Sawlog Lake, 28km
Tremur Lake, 31km
Gunter Lake, 32km
Cordova Lake, 28km
Round Lake, 25km
Lost Lake, 28km
Hermiston Lake, 27km
Robinson Lake, 35km
Wolf Lake, 35km
Mud Turtle Lake, 33km
Stoco Lake, 27km
Stevenson Lake, 27km
Barry Lake, 27km
Quinlan Lake, 36km
Norham Pond, 31km

Connor Lake, 37km
Little Whitney Lake, 31km
Matson Lake, 37km
Hidden Lake, 37km
Tamarack Lake, 38km
Carson Lake, 37km
Harper Lake, 39km
Limit Lake, 37km
Ameliasburg Mill Pond, 38km
Killoran Lake, 30km
Beloporine Lake, 30km
Lamey Lake, 30km
Mann Lake, 40km
Big Burnt Lake, 39km
Door Lake, 41km
Roblin Lake, 39km