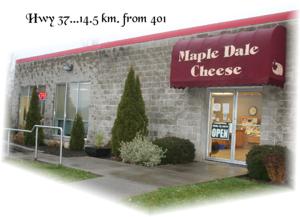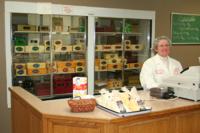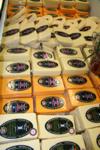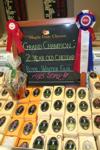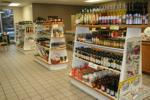 2864 Hwy 37 N., RR#1
Plainfield, Ontario
K0K 2V0



Ontario Tourism Region : The Great Waterway

Phone : (613) 477-2454
Fax : (613) 477-3192
E-Mail : Click Here to E-Mail us
Outside Web Page : http://www.twp.tweed.on.ca
Outside Web Page : http://mapledalecheese.com


Tour Group Person Limit: 100

Driving Directions:
From the 401, take exit 544b north on Hwy 37 from Belleville. Drive 25 km. north to Plainfield. Maple Dale just north of Plainfield.
Business Hours:
7 days a week 7am - 5:30 pm.
Description From Owner:
At Maple Dale, good cheese is what we are all about and have been for over 100 years. The company, formerly known as Zion Cheese Manufacturing Co., was established in 1888 as a cooperative consisting of Dairy Farmers.
Purchased in 1987, Maple Dale Cheese is now a family-run business. Maple Dale has always specialized in Cheddar, especially aged cheddar. To the delight of many, fresh curd continues to be made daily.
Our roadside retail store features ice cream, Ontario Maple Syrup and Honey, Greaves Jams, a large selection of gourmet jams and preserves including no-sugar jams, and much more.
In 1994, Maple Dale Cheese was the Grand Champion of the British Empire Cheese Show, revered as the Canadian cheese show of the year. Maple Dale Cheese competed among more than 30 of the nation's finest cheesemakers.
Ranging from the simple to our outstanding 'top-of-the-line' Gourmet Basket, our gift baskets contain the very finest quality cheeses arranged in an attractive, reusable wicker basket.
View Larger Map
Address of this page: http://www.ruralroutes.com/mapledale
Visitors to this page: 104,192 Emails sent through this page: 923 This record last updated: January 10, 2013

Off the beaten track:
Latta, 3km
Roslin, 3km
Chisholm's Mills, 4km
Halston, 4km
Thrasher's Corners, 6km
Phillipston, 5km
Thomasburg, 8km
Moira, 7km
Zion Hill, Foxboro area, 7km
Duff Corners, 9km

Nearby Lakes:
Ross Lake, 10km
Moreland Lake, 12km
Drag Lake, 14km
Stoco Lake, 17km
White Lake, 16km
Snake Lake, 18km
Marland Lake, 16km
Oak Lake, 16km
Moira Lake, 20km
Lime Lake, 20km