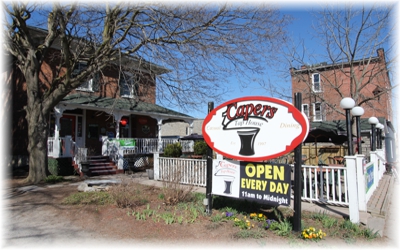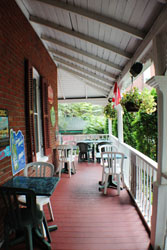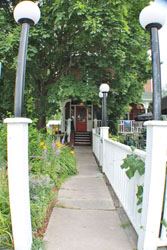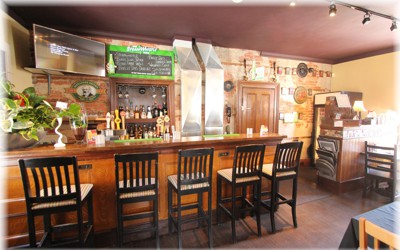 28 Bridge St., P.O. Box 1196,
Campbellford, Ontario
K0L 1L0



Ontario Tourism Region : Kawartha and Northumberland

Phone : (705) 653-5262
E-Mail : Click Here to E-Mail us
Outside Web Page : http://www.capersrestaurant.ca
Outside Web Page : http://www.visitcampbellford.com
Your Host(s) : Ron Csenar


Tour Group Person Limit: 40

Driving Directions:
Exit 509 (Brighton) on the 401 and drive 30 km. north on Hwy 30 to Campbellford. Capers is on the west side of the bridge near the main intersection.
Business Hours:
Description From Owner:
Our restaurant is set in an intimate, relaxed atmosphere of an 1890 heritage home.
Try our delightful selections of imported and domestic beers and wines.
Curries, Schnitzel, Pasta, Seafood, Fajitas and more.
Check out our daily features; they blend the best of international cuisine. Dine inside or outside on our patio or porch. .
OTHER POINTS OF INTEREST IN CAMPBELLFORD: Campbellford is know for great little shops, mouthwatering eateries, wonderful fishing, golfing and hiking.
Highlights are Dooher's Bakery, Bennett's Home Furnishings, Lots of Unique Shops, World's Finest Chocolate Factory Outlet (made here), Empire Cheese Factory, Military Museum, Church Key Brewery, Westben Arts Festival Theatre,
The Indian Bike Museum, The Gigantic Two Dollar Coin, Trans Canada Trail, Ferris Provincial Park, with *NEW* THE RANNEY GORGE SUSPENSION BRIDGE*
**Local Shops**Accommodations**Tourist Attractions & More!
Capers is a pleasant 50 minute drive from Belleville, click on 'view larger map' to get directions from your address!
View Larger Map
Address of this page: http://www.ruralroutes.com/capers
Visitors to this page: 60,067 Emails sent through this page: 132 This record last updated: March 7, 2017

Off the beaten track:

West Corners, 2km
Connellys, 6km
Meyersburg, 7km
Kellers, 8km
Healey Falls, 8km
Percy Boom, 8km
English Line, 6km
Woodland, Havelock area, 8km
Pethericks Corners, 7km
Crowe Bridge, 9km
Burnbrae, 8km
Godolphin, 8km
Stanwood, 10km
Menie, 8km
Trent River, 11km
Westview, 9km
Green Acres, 10km

Sunnybrae, 10km
Allan Mills, 13km
Rylstone, 12km
Blairton Station, 14km
Preneveau, 14km
Hoards, 11km
German Landing, 12km
Warkworth, 14km
Norham, 15km
Maple View, 12km
Brickley, 13km
Blairton, 18km
Ashby Mill, 18km
Chase Corners, 18km
Dartford, 15km
Wellman, 14km
Freeman Corners, 19km

Morganston, 19km
Orland, 20km
Mount Pleasant, Stirling area, 14km
Wooler, 19km
Rush Point, 20km
Stockdale, 18km
Anson, 16km
Glen Ross, 17km
Cedar Creek, 23km
Rockdale, Marmora area, 23km
Carman, 22km
Spring Brook, 18km
Bonarlaw, 19km
Hilton, 24km
Shiloh, Brighton, 24km
Sine, 18km




Nearby Lakes:

Mud Lake, 5km
Seymour Lake, 9km
Hermiston Lake, 9km
Stevenson Lake, 10km
Barry Lake, 10km
Killoran Lake, 12km
Norham Pond, 16km
Rylstone Lake, 15km
Lamey Lake, 13km
Dartford Pond, 14km
O'Reilly Lake, 14km
O'Melia Lake, 14km
McCleary Lake, 15km
Crowe Lake, 20km
Belmont Lake, 21km
Round Lake, 22km
Beloporine Lake, 23km

Lost Lake, 23km
Lost Lake, 28km
Matson Lake, 28km
Rotten Lake, 24km
Little Lake, 29km
Cordova Lake, 30km
Tremur Lake, 27km
Little Whitney Lake, 30km
Oak Lake, 23km
Twin Sister Lakes, 32km
Buttermilk Lake, 33km
South Lake, 32km
Sawlog Lake, 33km
Jarvis Lake, 29km
Black Lake, 33km
Oak Lake, 33km
Thompson Lake, 35km

Long Lake, 33km
Horse Lake, 34km
Blind Lake, 35km
Lake Ontario, 36km
Banker Lake, 30km
Mud Turtle Lake, 37km
Sams Lake, 37km
Ross Lake, 27km
Blue Lake, 38km
West Twin Lake, 38km
Quarry Lake, 30km
East Twin Lake, 39km
Bog Lake, 39km
Kasshabog Lake, 38km
Maloney's Lake, 30km
White Lake, 34km