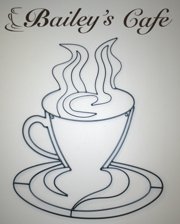 25 Forsyth St.,P.o. Box 682
Marmora, Ontario
K0K 2M0



Ontario Tourism Region : Ontario's Highlands

Phone : (613) 472-0111
E-Mail : Click Here to E-Mail us


Driving Directions:
Beside the Liquor store on the west side of the main intersection (Hwy 7 and 14) in downtown Marmora.
Business Hours:
Summer Hours: Monday and Tuesday 7am - 3 pm. Wednesday - Sunday 7am - 7 pm.
Description From Owner:
Opened in May of 2010, Bailey's Restaurant invites you to enjoy home-cooking in the Number SEVEN corridor community of Marmora!
Address of this page: http://www.ruralroutes.com/baileys
Visitors to this page: 10,399 Emails sent through this page: 4 This record last updated: February 15, 2017

Off the beaten track:

Marmora Station, 3km
Deloro, 5km
Bonarlaw, 8km
Blairton, 7km
Allan Mills, 9km
Rylstone, 10km
Spring Brook, 11km
Freeman Corners, 9km
Shanick, 12km
Malone, 11km
Cordova Mines, 10km
Stanwood, 11km
Crowe Bridge, 13km
Rockdale, Marmora area, 11km
Chase Corners, 10km
Blairton Station, 11km
Preneveau, 12km

Pethericks Corners, 15km
Ashby Mill, 12km
Wellman, 16km
Healey Falls, 14km
Kellers, 15km
Woodland, Havelock area, 15km
Burnbrae, 18km
Sine, 18km
Menie, 19km
Minto, Stirling area, 17km
Mount Pleasant, Stirling area, 20km
Hoards, 21km
Fox Corners, 18km
Connellys, 18km
Vansickle, 19km
Keller Bridge, 19km
Anson, 22km

Bannockburn, 20km
Round Lake, 17km
Trent River, 18km
Green Acres, 23km
Rush Point, 17km
English Line, 24km
Millbridge, 24km
White Lake, Madoc area, 18km
Ivanhoe Station, 18km
Hazzards Corners, 19km
German Landing, 25km
Ivanhoe, 19km
Stirling, 23km
Glen Ross, 25km
West Corners, 23km
Oak Lake, Havelock area, 21km




Nearby Lakes:

Crowe Lake, 4km
Rylstone Lake, 7km
Jarvis Lake, 9km
Twin Sister Lakes, 13km
Buttermilk Lake, 14km
Thompson Lake, 15km
Sawlog Lake, 15km
Belmont Lake, 12km
Banker Lake, 12km
Mud Lake, 16km
Seymour Lake, 15km
Cordova Lake, 15km
Lost Lake, 16km
Mud Turtle Lake, 20km
Round Lake, 15km
Eldorado Lake, 18km
Gunter Lake, 22km

Connor Lake, 24km
Little Whitney Lake, 19km
Hidden Lake, 25km
Moira Lake, 18km
Carson Lake, 25km
White Lake, 18km
Snake Lake, 18km
Tamarack Lake, 25km
Limit Lake, 24km
Hazzard Lake, 20km
Big Burnt Lake, 26km
Harper Lake, 27km
Otter Lake, 27km
Bear Mountain Lake, 27km
Bog Lake, 24km
Mann Lake, 28km
Wolf Lake, 26km

Oak Lake, 22km
Bluff Lake, 28km
Door Lake, 29km
East Twin Lake, 24km
Little Burnt Lake, 29km
Whetstone Lake, 27km
West Twin Lake, 24km
Moreland Lake, 22km
Robinson Lake, 26km
Beloporine Lake, 21km
Blue Lake, 25km
Oak Lake, 27km
Sams Lake, 24km
Big Buck Lake, 30km
Ross Lake, 25km
South Lake, 23km