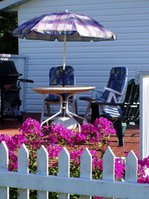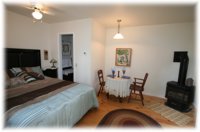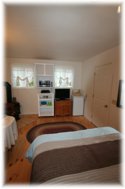 858 St. Ola Road
Gilmour, Ontario
K0L 1W0



Ontario Tourism Region : Ontario's Highlands

Phone : (613) 474-2492
E-Mail : Click Here to E-Mail us
Your Host(s) : Anita Murphy


Description From Owner:
Welcome to St. Ola, a lovely village nestled among the lakes with a river winding through it.
This is a relaxing place to sit back and enjoy the country for a few days or just an overnight stay.
Full breakfast or go light if you please Meals -home cooked Fresh vegetables in garden when in season All meals available if sufficient notice is given Satellite T.V.
The small housekeeping apt. is set up with everything you would need for an extended stay.
The cabin is situated in among the gardens and allows privacy to the customer away from the main house. It is very comfortable and has it's own small deck at the back with a BBQ.
Trout and bass fishing. A chain of 5 beautiful lakes to boat & canoe.
Biking, skidooing, ATV trails. Golfing in area.
Bancroft rockhound jamboree.
En-route to Algonquin Park
Canoe available-durable.
Bird watching. Local theatre etc.
Address of this page: http://www.ruralroutes.com/mortonhouseinn
Visitors to this page: 4,410 Emails sent through this page: 3 This record last updated: July 25, 2012

Off the beaten track:

St. Ola, 4km
Martins Landing, 6km
Steenburg Lake, 7km
Gunter, 8km
Glanmire, 9km
Murphy Corners, 9km
Brinklow, 11km
Millbridge, 15km
Ormsby, 13km
Egan Creek, South of Bancroft, 18km
Bannockburn, 21km
Turriff, 20km
The Ridge, 17km
Keller Bridge, 23km
Nobbs Siding, 22km
McCrae, 21km
Cooper, 22km

Bessemer, 25km
Fox Corners, 25km
Allan, 25km
Detlor, 25km
Shanick, 27km
Egan Creek, Bancroft area, 26km
Weslemkoon, 24km
Childs Mines, 28km
Rimington, 26km
Malone, 29km
Bowen Corner, 29km
Lake, 22km
Bronson Station, 28km
Hartsmere, 31km
Hermon, 32km
Vansickle, 28km
Hazzards Corners, 31km

Caverlys Landing, 30km
Bronson, 30km
Queensborough, 30km
Faraday, 25km
Deloro, 35km
Rowland, 35km
Marmora Station, 36km
Owenbrook, 26km
Vardy, 34km
Cordova Mines, 34km
Rose Island, 27km
Glen Alda, 27km
Lasswade, 27km
Fort Stewart, 39km
Oak Lake, Havelock area, 33km
Maxwell, Bancroft area, 36km




Nearby Lakes:

Twinpine Lakes, 1km
Jordan Lake, 5km
St. Ola Lake, 5km
Wadsworth Lake, 4km
Twait's Lake, 5km
Little Wadsworth Lake, 6km
Glanmire Lake, 7km
Steenburg Lake, 5km
Limerick Lake, 8km
Muskrat Lake, 7km
Paddy's Lake, 7km
Hinchcliffe Lake, 9km
Door Lake, 10km
Brett Lake, 8km
Dark Lake, 11km
Twomile Lake, 11km
Harper Lake, 11km

Mann Lake, 10km
Gunter Lake, 10km
Cashel Lake, 11km
Mephisto Lake, 12km
Bea Lake, 13km
Dixon Lake, 13km
Mawson Lake, 13km
Perch Lake, 10km
Hamm Lake, 13km
Jocko Lake, 13km
Brinklow Lake, 12km
Dickey Lake, 11km
Buttermilk Lake, 15km
Horseshoe Lake, 15km
Little Burnt Lake, 13km
Sweets Lake, 12km
Robinson Lake, 13km

Shaw Lake, 14km
Spring Lake, 13km
Blue Sea Lakes, 16km
Horse Lake, 14km
Lake of Islands, 12km
Chain Lakes, 16km
McFee Lake, 15km
Woods Lake, 14km
Freen Lake, 13km
Wolf Lake, 16km
Sanford Lake, 15km
Currie Lake, 17km
Silva Lake, 12km
Little Sanford Lake, 14km
Gunter Lake, 17km
Lighthouse Lake, 12km