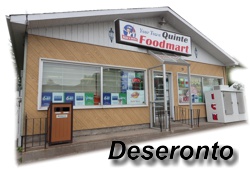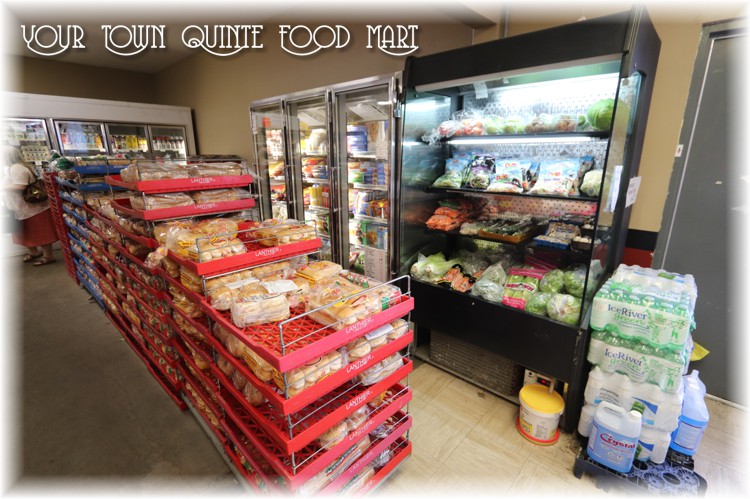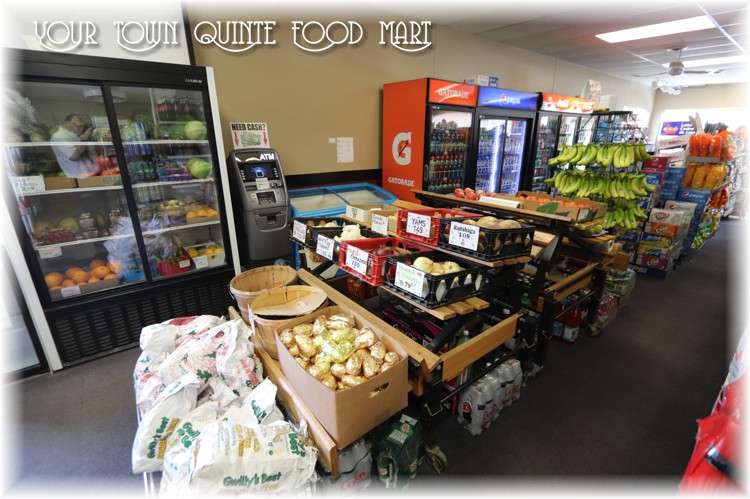 75 St. George St.
Deseronto, Ontario
K0K 1X0



Ontario Tourism Region : The Great Waterway

Phone : (613) 396-2321
E-Mail : Click Here to E-Mail us
Your Host(s) : Lucille and Ron


Business Hours:
7 days a week: 7:30am - 11:00pm
Description From Owner:
Full service grocery store featuring fresh butchered meats, rotisserie chicken, produce, dairy, frozen & dry/canned goods.
Convenience goods, lotto centre and movie rentals. Dry cleaning drop-off & pick-up. Sears Canada Catalogue Agency outlet.
Address of this page: http://www.ruralroutes.com/QuinteVariety
Visitors to this page: 4,662 Emails sent through this page: 3 This record last updated: June 23, 2016

Off the beaten track:

Bethany, Deseronto area, 3km
Greenpoint, 5km
Mount Pleasant, Napanee area, 5km
Cole Wharf, 6km
Huff Wharf, 6km
Empey Hill, 7km
Gretna, 5km
Mount Carmel, Prince Edward County area, 8km
Hay Bay, 7km
Watercombe, 8km
Solmesville, 7km
Gosport, Hay Bay area, 9km
Roblin Mills, 10km
The Pines, 9km
South Napanee, 8km
Kingsford, 11km
Lonsdale, 10km

Hayburn, 10km
Bethesda, Picton area, 11km
Woodville, Hay Bay area, 13km
Dorland, Kingston area, 13km
Anderson, Napanee area, 10km
Selby, 13km
Lonsdale Station, 12km
Ebenezer, Napanee area, 14km
Forest Mills, 16km
Adolphustown, 15km
North Port, 12km
Sharps Corners, 16km
Albert, 15km
Sillsville, 12km
Glenora, 17km
Lake on the Mountain, 17km
Milltown, 13km

Conway, 14km
Grieves Corners, 18km
Melrose, Shannonville area, 14km
Pinegrove, Napanee area, 18km
Elmbrook, 17km
Bongard, 18km
Roblindale, 19km
Shannonville, 14km
Sandhurst Shores, 15km
Westplain, 20km
Strathcona, 17km
Roblin, 20km
Galts Corner, 15km
Bongard Corners, 18km
Sandhurst, 16km
Read, 17km




Nearby Lakes:

Fish Lake, 15km
Lake on the Mountain, 18km
Lost Lake, 20km
Lime Lake, 24km
Perrys Lake, 23km
Dry Lake, 26km
Dry Lake, 26km
Marland Lake, 26km
White Lake, 29km
Mill Pond, 29km
Bloomfield Mill Pond, 27km
Goose Lake, 31km
Biddys Lake, 30km
Rons Lake, 31km
Camden Lake, 29km
Sampson Lake, 33km
Beaver Lake, 33km

Varty Lake, 29km
East Lake, 33km
Hughes Lake, 34km
Calpin Lake, 37km
Carroll Lake, 37km
West Lake, 34km
West Sheffield Lake, 38km
Barretts Pond, 38km
Murphy Lake, 38km
Herring Lake, 39km
Haley Lake, 40km
Stoco Lake, 36km
Round Lake, 40km
West Cranberry Lake, 40km
Little Mellon Lake, 41km
South Cranberry Lake, 41km
Mellon Lake, 42km

Bruno Lake, 41km
Little Mitten Lake, 42km
Odessa Lake, 32km
Mitten Lake, 43km
Lost Lake, 31km
Little Gull Lake, 43km
Palmeteer Lake, 44km
Wheeler Lake, 43km
Todd Lake, 44km
Donahue Lake, 44km
Gull Lake, 44km
Roblin Lake, 33km
West Lake, 43km
Sheffield Long Lake, 44km
Shirtcliff Lake, 44km
Napanee Lake, 37km