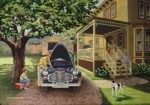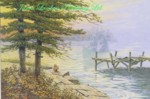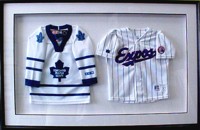 255 Glen Miller Road, RR#5, Box 5288
Trenton, Ontario
K8V 5P8



Ontario Tourism Region : The Great Waterway

Phone : (613) 392-2889
Fax : (613) 392-5884
E-Mail : Click Here to E-Mail us
Outside Web Page : http://www.quinteartandcustomframe.com
Outside Web Page : http://www.lumbers.com
Your Host(s) : Frecia and Avelino Correia


Tour Group Person Limit: 20

Driving Directions:
Exit 526 (Glen Miller)on the 401 and drive north on Glen Miller Rd. Riverview Plaza is located across from the Cashway Building Centre.
Business Hours:
Monday 11am - 5 pm. Tuesday to Friday: 10am - 5 pm. Saturday 10am- 2 pm.
Description From Owner:
Welcome to Quinte West!
Custom framing of originals and limited edition prints. Museum quality conservation framing. Crescent 'Ragmat'(100% cotton) used in the matting process; needlework and stretch; paper tole frames and supplies & Photo Frames...
We have limited edition prints by Robert Bateman, Terry Redlin, Trisha Romance, Debi Fitzgerald, Carl Brenders, Neil Blackwell, Brent Townsend (of two-dollar coin fame) and James Lumbers, etc.
Needlework and stretch, medals, degrees or certificates, invitations, collectibles, antique dishes, photographs and portraits.
'Professional, Affordable Framing' within 24 hrs if necessary.
Come to us for novel ideas such as hockey jerseys in a shadow box, etc.
Local artists; Lynn Weymark, Rebecca Llewellyn Boland, Wes Donaldson Jr. , Kathleen Albert - Lightfoot ...
Address of this page: http://www.ruralroutes.com/quinteart
Visitors to this page: 12,906 Emails sent through this page: 108 This record last updated: August 11, 2009

Off the beaten track:
Trenton Junction, 2km
Glen Miller, 4km
Johnstown, Belleville area, 5km
Twelve O'Clock Point, 6km
Albury, 5km
Mount Zion, Belleville, 6km
Bayside, 6km
Gardenville, 9km
Barcovan Beach, 10km
Stockdale, 11km

Nearby Lakes:
Tremur Lake, 3km
Consecon Lake, 15km
Matson Lake, 13km
Ameliasburg Mill Pond, 13km
Roblin Lake, 14km
Oak Lake, 18km
Ross Lake, 25km
Little Lake, 21km
Norham Pond, 24km
Mud Lake, 31km