420 Barrett Road, Centreville, ON
Centreville, Ontario
K0K 1N0
Ontario Tourism Region :
The Great Waterway



Tour Group Person Limit:
100
Driving Directions:
From Highway 401 Exit No. 579, 10.7 km North, turn right at Centreville Rd., continue 5.5 kms. following signs.
Business Hours:
Open weekends Victoria Day - Father's Day, 10 am to 5 pm; Daily Father's Day to Labour Day, 10 am to 5 pm. Weekends only after Labour Day, 10 am to 4 pm. Weekdays by appointment.
Description From Owner:
Visit the Devil's Horsestable Cave. Descend 7.5 metres to the depths of the Hell Hole that widens into a cavern approx. 2.5 X 3.5 metres. (FLASHLIGHT REQUIRED)
Cross a natural stone bridge. Adventure downward below the bridge and notice the atmosphere of a mini-like rain forest. This area is plentiful in small mammals.
Walk through a rugged criss-crossing gorge with over-hanging ledges, grottos, flowerpots, mushroom shaped rocks and sinkholes.
Enjoy a 3.2 km self-guided tour through a unique geological area of Eastern Ontario.
Step back in time to explore the rock formations that were created during the glacial period and see rare plants that have developed over the area. Visit our Log Cabin Snack Bar and Gift Shop.
Picnic and playground are available. Admission: Adults $7.00, Youths (5-15) $5.00, Children under 5: FREE.
Payment method; CASH ONLY
PLEASE NOTE: DUE TO THE RUGGED NATURE OF THIS TRAIL, IT IS NOT WHEELCHAIR ACCESSIBLE
AND CAN ONLY BE VENTURED BY FOOT! (not stroller friendly)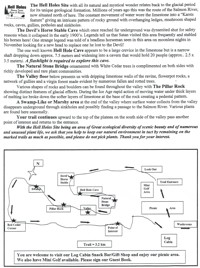 Print off detailed map in pdf format
Address of this page: http://www.ruralroutes.com/hellholes