About Ontario Rural Routes
Thanks for taking a minute to say hello. We have worked hard to develop a business model for rural or regional tourism. Our best clients are those who recognize gaps in the existing Destination Marketing Framework.
Our Associates build sustainable models for the creative and the entrepreneurial. If you answer to those business sirens, we want to hear from you.
Our subscribers enjoy excellent traffic coupled with these advantages:
Hosting of the ruralroutes.com mysql database is with Amazon Web Services.
ruralroutes.com has been stable and profitable since inception (1999).
All records are self-editable and password protected!
Record capacity is now unlimited, with capacities for slide shows, videos and includes a Google Map Application.
Database includes an official "placename" bank, pulling geographically on 1300 rural post offices and 6500 "small places" for Ontario, sorting by long. / lat.
All records are designed to service "low" bandwidths, with thumbnailed images on "first retrieve".
Private emailer forms included with each record to protect privacy.
Hit and email counters for each record.
Captcha protected and vetted Reviews Tab for complimentary notes from client customers.
Originally conceived to deliver content management systems for under serviced rural areas.
Complementary detailed maps showcasing supporting clients, delivered pre-tourism season annually.
E-commerce modules used in conjunction with "PayPal" (As of 2019, PayPal operates in 202 markets and has 277 million active, registered accounts. PayPal allows customers to send, receive, and hold funds in 25 currencies worldwide).
Desire to cooperate with municipalities and small-town interests to provide database services.
You have it all for one low annual subscription rate.
A model we are proud of is the "community share" approach. Have a peek at: http://www.visithastingsvillage.com/hra.html and you will get an idea how the concept works. Make money from your website...it shouldn't be a drain on budgets! Give your association or chamber a complete suite of administrative tools and enjoy the fruits of keeping everyone up-to-date on the web! We pride ourselves as a low cost provider with an easy to learn system of web development.
We also build custom websites with self-editable modules... please call for pricing.
We are always looking for interested marketers in other jurisdictions.
Clive Nickerson
www.ruralroutes.com


Consider ramping up your DMO online business.
Our Team
Clive Nickerson BSc. (Agr.) MBA
Ask us a question
(613) 475-4637
Below are a number of map complexes we have developed over the years and look forward to developing many more. Print advertising will continue to find its way around the progressively noisier and limited cell phone screen, especially in more rural settings.
Our technical partners above have been stellar performers in the convoluted, time sensitive world of database hosting and management. Our 20 year endeavour online could not have succeeded without them.
I have been introduced to many passionate micro/small businesses through social media, and would like to shout to anyone out there in this busy province of Ontario (or other places) who might like the idea of a dynamic home business removed from the sterility of urban asphalt. I would love to meet you electronically or otherwise. Nothing worthwhile comes without work, but our model transcends geography and cookie cutter monopolies, putting the power of the internet in your hands. You will learn how to do video/photography in both the field and at the console, develop customer relationships (sell), think on your feet, research opportunities, build websites and see parts of the province that are wonderful.
Remuneration comes in many forms, and I encourage you to stop by. I will open my books to you and show you how advertising pays. It can be full-time work, and enjoyable work, at that.
I am looking for ways to populate our successful database with information not easily accessible elsewhere. David E. Scott has been helpful is finding obscure place name data, Harold Stiver for old mill photography and Dr. Lorenzo Marcolin for harbour town postcards. I also have to thank Natural Resources Canada for the monumental work in developing the topographic map series, and the Geogratis portal online. Please let us know if you can help with content management in any way.
If you are reading this outside Ontario, consider a database in managing your client membership and setting up an automated office. Input costs are low, and regardless of what industry you consider, you will need a database today. I work primarily in rural tourism, but that overlaps countless disciplines. Talk to us about content management.
Lastly, we embrace healthy lifestyles and people of integrity. Too much of the world seeks to gratify itself. We want to come alongside likeable souls. With affirmation and affection.
Clive
Annual Rural Tourism Maps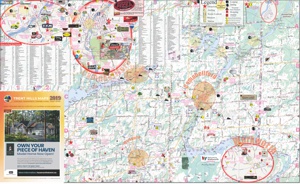 1) Trent Hills (Campbellford, Warkworth, Hastings)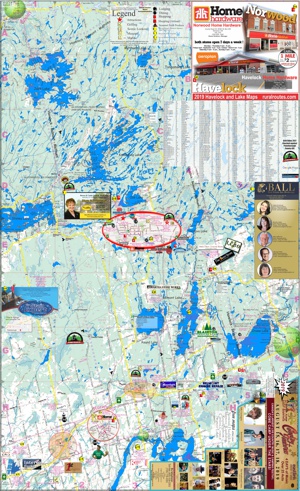 2) Havelock (Havelock to Kasshabog Lake)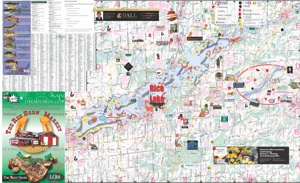 3) Rice Lake (Bewdley to Hastings)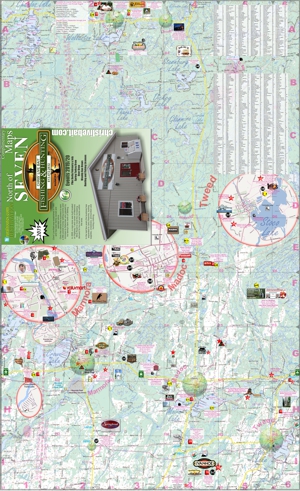 4) North of SEVEN (Marmora, Madoc, Tweed, and Coe Hill)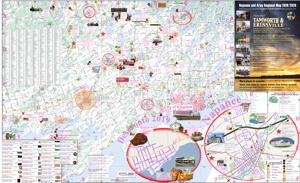 5) Napanee (Shannonville to Sydenham)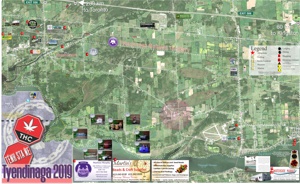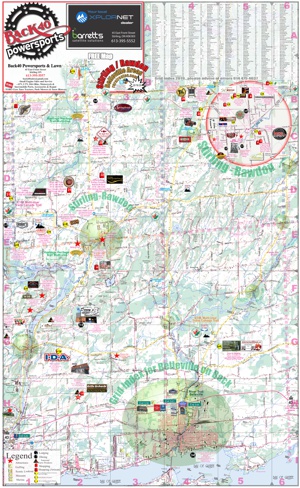 7) Stirling Rawdon (Belleville through Springbrook)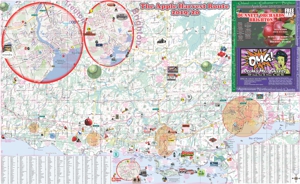 8) Apple Harvest Route (Cobourg through Belleville)